Heating System Water Test Kit
Central Heating Water Analysis
Central Heating Water Test Kit incl. Electronic Testing Device MP-7
The proven solution for on-site measurement of pH, conductivity and total hardness in the heating water
The evaluation of the heating water, especially in regard to the electrical conductivity of the heating water, the pH value of the heating water and the total hardness of the heating water, is decisive for a heating water quality according to VDI 2035 and other guidelines. The observation of these values is of great importance for the installer and the operator of a heating system, because warranty claims often depend on the heating water quality.
We have arranged the heating water analysis set in the practical case for on-site use, so that the heating engineer, the caretaker or any other person can ascertain the important parameters of the heating water, pH value, electrical conductivity and total hardness directly at the system.
The total hardness measurement is done by use of an total hardness drop test. For this purpose, 5 ml of heating water are poured into the enclosed cuvette. By constant swirling of the heating water the hardness solution is to be added dropwise, whilst the drops are counted. The number of the drops corresponds to the total hardness of the heating water. The use of a total hardness drop test is a cost-effective and proven method for the observation of the total hardness of heating water.

For measurement of the electrical conductivity of the heating water and to observe the pH value of the heating water, we have enclosed our electronic analysis device MP-7 to the heating water analysis kit. The MP-7 is used by many installers, service engineers and maintenance staff for the rapid on-site heating water analysis. The heating water analysis device MP-7 is very reliable and easy to use.
---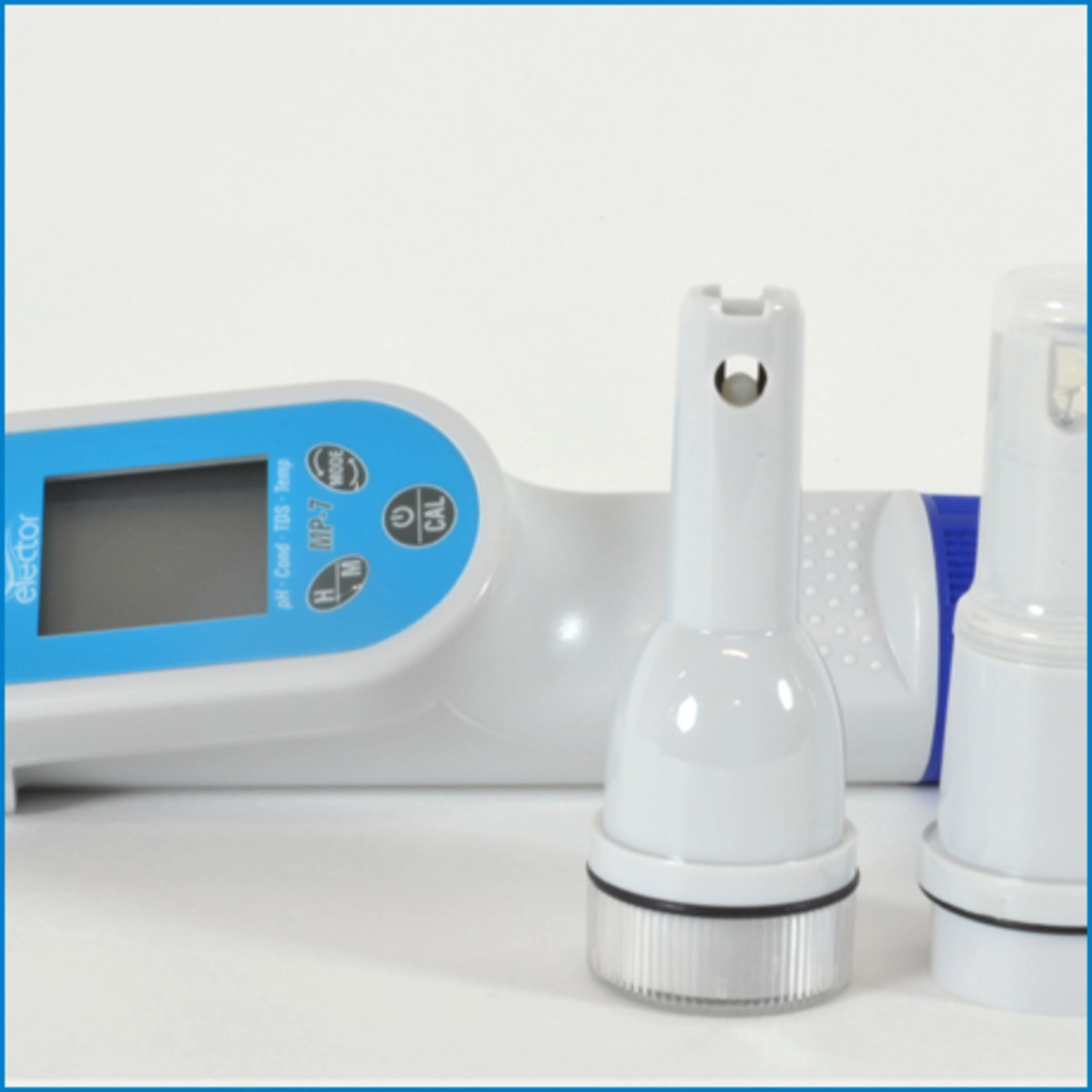 Integrated measurement logic
The microprocessor controlled analysis device MP-7 is easy to use. The device detects the electrodes and automatically switches between pH and electrical conductivity measurements.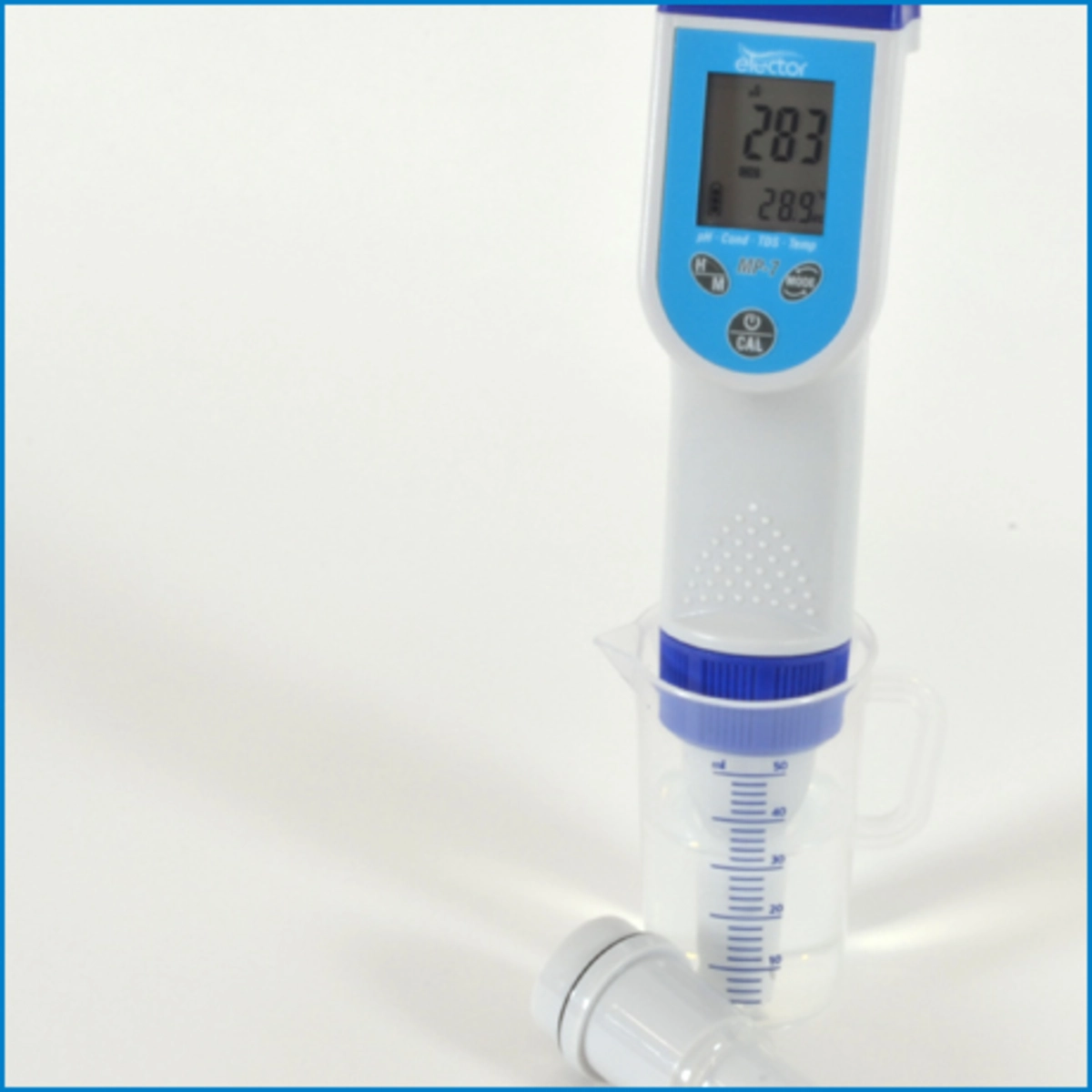 Easy to use
The combination meter not only automatically recognizes the electrodes, it also has a logical operation and a large, easy-to-read display in a robust housing.
Realible results
The analysis device MP-7 is also suitable for the measurement of pH and electrical conductivity in water with low salt content. To ensure that the device remains accurate over the long term, standardized calibration solutions from brand manufacturers are included in the scope of delivery and are available as consumables.
Proven methods
To measure the total hardness of the heating water, a drop test is integrated in the elector heating water test kit. This can be used to observe the heating water total hardness by means of the color swap method.
---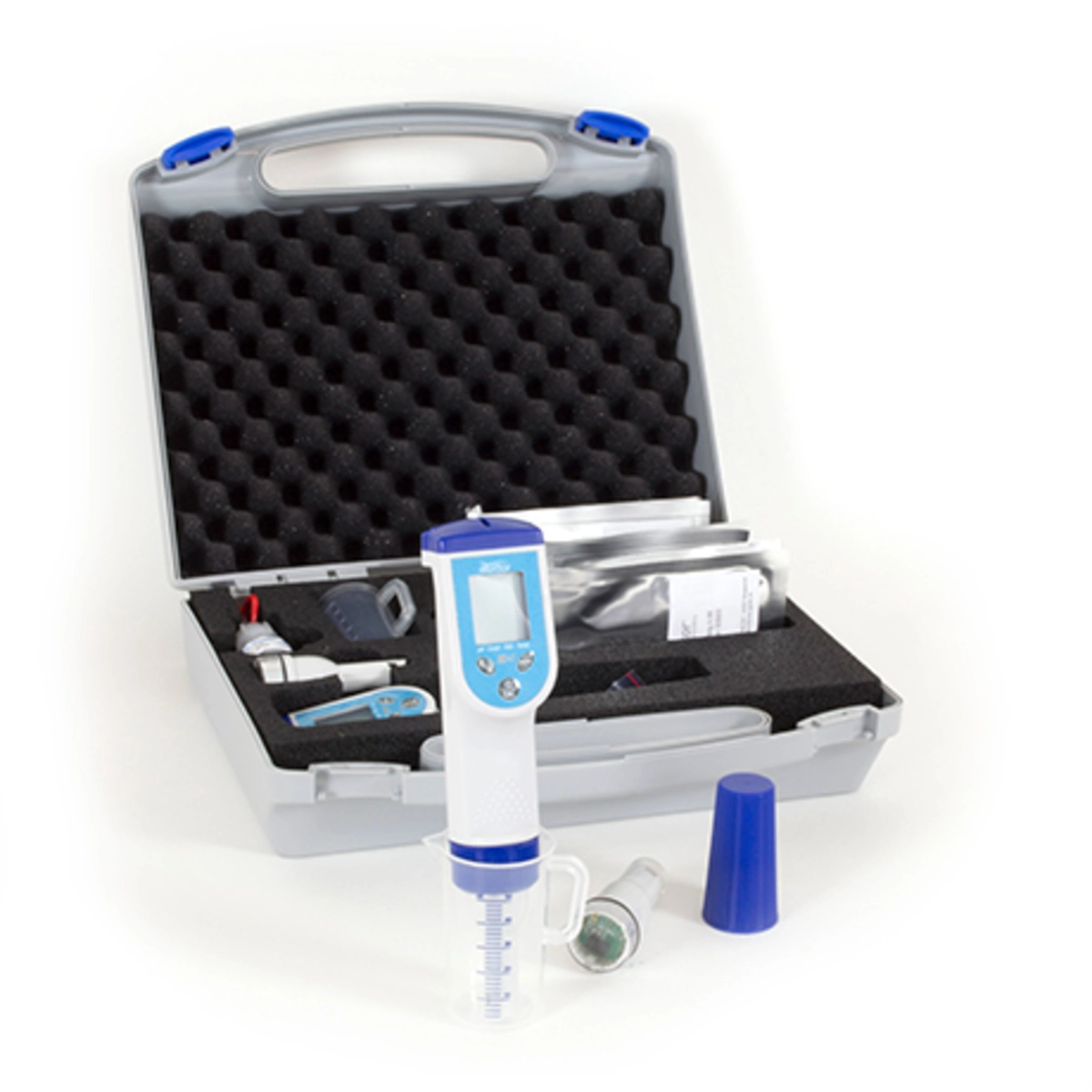 The facts in brief
Heating water meter for measurement of pH value and electrical conductivity in heating water.
Fast and accurate results thanks to microprocessor control.
Heating water total hardness test included.
Functional plastic case with contour foam for best equipment protection.
Including calibration solution, measuring cup and pH-electrolyte.
Technical Details Water Meter MP-7
pH-Value
Conductivity
TDS
Salt
Temperature
Measuring Range
2 ~ 16.00
0 ~ 2000 µS
2,00 ~ 20,00 mS
0 ~ 1300 ppm
1,30 ~ 13,00 ppt
0 ~ 1000 ppm
1,00 ~ 12,00 ppt
0 ~ 90°C
Accuracy
±0.001 + 1 digit
± 2%


±0,2°C + 1 digit
Display
0.01
1 µS/cm / 0,01 mS
1 ppm / 0,01 ppt
1 ppm / 0,01 ppt
0,1°C
Automatic Temperature Compensation
0 ~ 90°C
0 ~ 50°C
Calibration
pH 4.00, pH 7.00, pH 10.00
1413 µS/cm, 12,88 ms
Power Supply
DC 1,5 V x 4 (Battery-Type: AAA/UM-4)
Scope of delivery:
Plastic case with quick-release locks and foam insert for protection of the equipment.

Electronic water meter MP-7, incl. batteries.

Electrode for conductivity measurement.

Electrode for pH measurement.

10 ml electrolyte solution for the pH electrode.

50 ml plastic measuring cup with blue graduation.

2 phials with hardness testing solution for 600 drops à 1°dH, inckl. 10 ml cuvette.

2 sachets à 20 ml calibration solution for electrical conductivity.

2 sachets à 20 ml calibration solution pH 10.00

2 sachets à 20 ml calibration solution pH 7.00
Downloads Heating Water Test Kit
Info folder heating water test kit
Datasheet - Heating water test kit incl. electronic water meter MP-7